Political Realities
Canada has waited 43 years for updated animal transport standards. The CFIA published revised draft transport regulations in December 2016.
"The current provisions do not reflect current science regarding the care and handling of animals, do not align with the standards of Canada's international trading partners, and are not aligned with the World Organization for Animal Health welfare standards for animals transported by land, air and sea. This leads to a continuing risk that animals will suffer during transportation."
-CFIA's public notice about the draft regs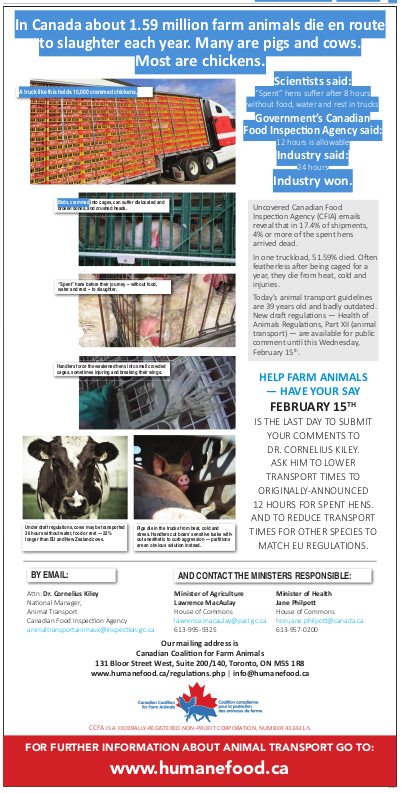 In February 2017, CCFA published this full-page ad in the Ottawa Citizen [PDF]
But… CFIA listened to intense industry lobbying, and increased proposed transport times.
The Globe and Mail (March 17, 2017) wrote how animal industries lobbied CFIA for longer transport times. CFIA bowed to animal-industry pressure and increased food-water-rest times, ignoring its own science-based analysis.
The Globe article was based on documents obtained by the Canadian Coalition for Farm Animals through Access to Information and Privacy legislation.
Documents recently obtained through Access to Information requests show the CFIA did very few highway inspections of vehicles transporting animals in 2016 and 2017 and none in Ontario, Manitoba, Quebec, Nova Scotia and Newfoundland. Read the full report.
To date, the draft transport regulations, published December 2016, have not been promulgated as law.